A subscription box for writers: does that even exist?
Sure it does!
In fact, below you can find multiple subscription boxes for writers that will give you everything you need while you write your next story.
Also: don't let the term "subscription" box steer you away from them. With many boxes, you can order them for one month (so one box).
Just be sure to read their guidelines and cancel your subscription in time (if this is necessary).
A one-time book subscription box also makes for a great gift!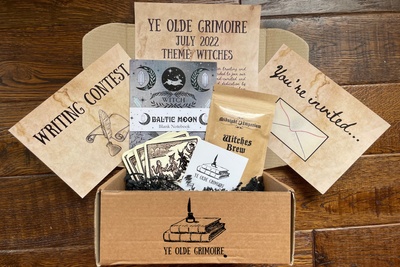 If you know me, you know I love writing fantasy (and reading fantasy).
So, it's probably no surprise that the first writing subscription box I'm listing here is a fantasy themed writing box. It offers monthly themed writing resources to inspire your writing. In each box, you get three to four goodies from indie business (think stationary, art, mugs, candles), and a sticker. But the most awesome thing is probably the access to an exclusive live Q&A with an industry professional (an author, agent or editor). Then they also have a monthly fantasy writing contest, where you get feedback on your submission and a chance to win a Waterstones or Paperblanks gift card. If you win, your story will also be featured in the next box. If that wasn't enough, it also comes with themed fantasy writing prompts, tips, and writing advice.
It's still a rather new box, so there aren't any reviews as of yet. If you order, the box ships between the 1st and 4th of each month.
This is a very popular subscription box for writers. In the box, you get teaching tools from bestselling authors, access to live chats with literary agents and editors, writing gifts, and a newly released novel. You also get access to a writing group that's run by a bestselling author.
As an example, a past box included a Publishing Inside Look, that looked at the process of a bestselling author, such as their query letter or editorial notes. The writing gifts are things like a chapter planner template, a creative writing journal, and a snack. Past speakers for the live chats have been literary agents and editors from publishers such as Random House, Macmillan, and Simon & Schuster.
On average, the box is rated 3.6 stars out of 5. Most people seem to be rather positive (46% are 5-star ratings), where people love the little surprises for writers, such as a signed book or notes from an author about their writing or publishing experience. It's possible that you'll get a book that you won't love, but you can always give it away to a friend.
The people who didn't like this writers' subscription box were mostly those who didn't like the accompanying gifts, such as coasters, pins, tote bags, and snacks.
Generally, don't get this writing subscription box for those "extra" things, but get it for access to the live chats, community, and author insights. The subscription boxes for writers ship on the 21st.
This is a general bi-monthly subscription box for writers. They curate the boxes based on colors, such as pinks, blues, and greens. Each box has a total of seven to ten products for writers, which include a notebook, sticker sets, washi tapes, and sticky notes, pens, pencils, and highlighters, and some self-care items.
For instance, one of their past subscription boxes for writers was red with a spiral bound dot grid notebook, a mini-notebook, a permanent marker, two special pens, washi tape, a sheet of habit tracker stickers (to keep track of your writing), and a rose bath bomb.
At the moment, The Write Notebook has one 5-star review, where the customer was very happy with the pricing, the quality of the products, and the color themes.
They ship the subscription box for writers for free in the US. You can also order the box if you live in another country (but then you will pay a shipping fee).
Have a kid who's an aspiring writer? Then this writing subscription box is perfect!
This box is a playful way to encourage kids between seven and twelve years of age to grow their writing skills. The books have lessons created by experienced teachers with a new writing tool and challenge. There's also a club activity with supplies and inspiration to encourage your kid to share their writing in fun ways. If that wasn't enough, they also get exclusive monthly writing zoom calls, where they can share their writing with other children and receive feedback from a writing coach.
An example of a past writing subscription box is their "writing is my superpower box." This box encouraged the children to use their writing as a superhero power for Earth Day. It was focused on creating a slogan and their own Earth Day superhero. Another example is their "habit box," where children learned about developing writing habits.
As of yes, the box doesn't have a review, but it does stem from an established program. If you order, the box will ship on or before the 10th of each month.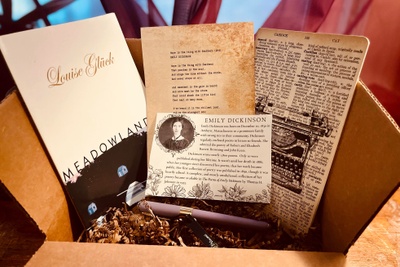 You're a poet and you know it! (Sorry, I couldn't help it.)
This subscription box for writers focuses on poetry. Each month, the box has a variety of items for inspiration. This includes a poetry book, list of writing prompts, a writing journal, pen, a poem by the poet of the month, and an info card about that poet.
At this moment, the writers' subscription box doesn't have any reviews yet, but the seller (Wildflowers and Ink) is rated 4.5 stars. Their customers generally love their subscriptions and think they're thoughtfully created.
Each box ships around the 15th of each month.
Writing comes in many forms, and this box proves just that. This writers' subscription box is specially curated for screenwriters, playwrights, TV writers, comic book writers, and podcast writers.
Each monthly box has a theme, such as loglines to comic book writing to how to land representation. You also get access to the Storrior's community. The box includes writer swag, access to live Q&As, published scripts and books on dramatic writing, motivational items, and interactive learning tools.
One of their past subscription boxes for writers was about writing horror, for instance. It had many spooky writer goodies, a published horror screenplay, and a horror writing tutorial. Currently, the box has two 5-star reviews. The customers found the box actually useful for helping them write a screenplay. Especially the Q&A session with producers, writers, and directors of an indie film was worth the cost of the box.
The subscription box for writers will be shipped on the 21st of each month from the US.
If you'd like to expand your skills by writing in different genres and different formats then this is a great writing subscription box.
Any Writing Subscription Box You Like?
Let me know in the comments!
Or if you know a good one that's not part of this list, be sure to leave a comment so I can add it.
Especially if you run a writers' subscription box service.
And finally: I try my best to keep this list updated. But if you notice that any of these links are no longer supported, please let me know!
Other interesting merch...